It's great to hear about anyone providing encouragment for new writers locally. But isn't the whole point about publication that it performs a "gatekeeping" function, preventing the market being flooded by mediocre fiction?
Iolanda forwarded this article to me which she found in today's
Sun
newspaper about a woman who believes it is everyone's right to write and be published.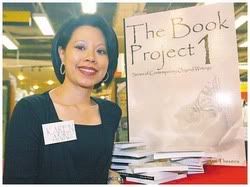 IT SEEMED - at least on the face of it - an impossible task. An unassuming former flight stewardess-turned-restauranteur, with no background in publishing, decides to source, edit and publish a collection of short stories, with the promise never to reject a single manuscript that comes her way.

A woolly fantasy? Tell that to Karen Ann Theseira, who has put her time and energy in getting her idea to bear fruit with the publication of her maiden effort, called The Book Project 1.

The idea for the project came to her two years ago, when Karen Ann, a self-confessed book lover who firmly believes everyone has a story to tell, wanted to find a way to encourage ordinary people to write.

The result is The Book Project 1 (published by Various Channel Marketing Sdn Bhd) which offers 23 original short stories from 21 writers in one collection.

Karen Ann herself contributed two short stories, Women (under the pen name Ira) and Dating Game in this compilation. The lanky lady, who is married to an engineer and currently resides in Johor Baru, has began working on the second volume, The Book Project 2.
Here's a link to the rest of
the article
by Bissme S. and his interview with Karen.