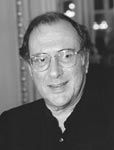 Harold Pinter's
new dramatic work for radio,
Voices
. BBC Radio 3 will broadcast the world premiere on the playwright's 75th birthday - Monday 10th October at 9.30pm GMT. If you can't get up that early in the morning ('cos it would be 5.30 a.m here!) the play will be available to listen to for two more weeks at the BBC website.
We live in an age of miracles, friends. How did we ever manage without the internet?
The full story can be found at
Splinters
.
Postscript:
Here's an interview with Pinter about the play from the
Independent
.