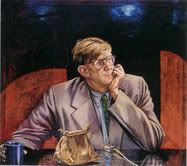 Alan Bennett
is a writer I love for his humanity, sense of voice and sheer audacity. Perhaps if my fairy godmother waved her wand at me and asked me which writer I'd most like to be, I'd choose to be Bennett for those very qualities. (Yes, even over Annie Proulx!)
I didn't manage to catch all five of his
Talking Heads
monologues serialised by the BBC, but they were extremely funny and well observed. I love his long short stories
The Clothes They Stood Up In
and
The Laying on of Hands
, as well as
his account
of an elderly lady who parked her van in front of his house and proceeded to live there for several years.
Now Bennett has a new book out,
Untold Stories
, about his mother's mental illness. Reading
this extract
from the
Telegraph
struck a chord, became my mother too began to imagine that there were spies everywhere (tapping the phone, intercepting the mail, everything a plot against her or her family - even my husband losing a legal case across the world in Malaysia was her fault according to her warped logic).
Bennett's mother suffered from depression, a condition which Bennett says is largely ignored by the medical profession:
Depression, which is much the most common mental illness, doesn't even qualify as such and mustn't be so labelled, perhaps because it's routine and relatively unshowy; but maybe, too, because it's so widespread not calling depression mental illness helps to sidestep the stigma.
It makes me deeply angry that any kind of mental illness carries a stigma because it makes it so hard for suffers to seek the treatment they need. This is a corner I would love to fight myself, and I'm glad that Bennett is writing about it.
Postscript
:
More on Bennett's new book from the
Guardian
.