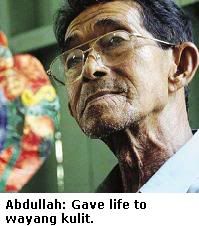 Some weeks ago I
wrote about
the
Macbeth in the Shadows
project: a collaboration between The British Council, Pusaka's Eddin khoo, British writer/illustrator Edward Carey and Tok Dalang Dollah Baju Merah. The play was supposed to have been staged at the same time as Theatre Babel's production of
Macbeth
.
Tragically, Pak Dollah passed away on 26th September.
Kakiseni
has the full story, and you can read an interview with the puppet-master
here
.
Malaysia
has lost another irreplacable performer
of traditional art forms: Pak Dollah's expertise died with him, for he had no apprentice to pass his skills on to.
(Picture from Malay Mail)